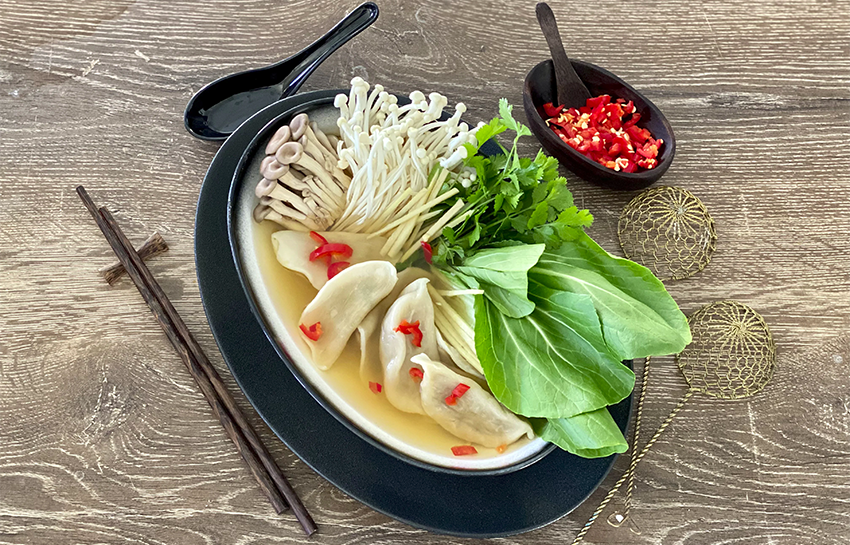 Gyoza, Ginger and Asian Mushroom Broth
I don't cook the leaves of the bok choy or the ginger in this recipe.
The heat from the broth is enough to wilt the leaves by pushing them into the broth just before you eat it.
If you prefer a little less bite in your Asian leafy greens, push the leaves into the simmering broth half a minute or so before you take it off the heat.
– – – – – – – – – –
Serves 2
Ingredients
500ml chicken bone broth – we used Cherry Tree Kitchen Organic Chicken Bone Broth
10 gyoza – we used Mushiki Vegetarian Dumplings by Thatch + Amanda
300g mixed Asian mushrooms
¼ bunch coriander
1 bok choy, sliced in half through the middle
1 small knob ginger, enough to make 20 matchsticks
1 red chilli, chopped
Method
Place the broth in a medium-sized saucepan and bring to a gentle simmer.
Place the gyoza and stem part of the bok choy (leave the leaves sitting out) in the pot and cook for 1 minute.
Add the mushroom and cook for about 30 seconds.
Place the mushrooms, bok choy and gyoza artfully in a serving bowl, tuck in the coriander and ginger matchsticks, and pour over the broth. Garnish with chilli.